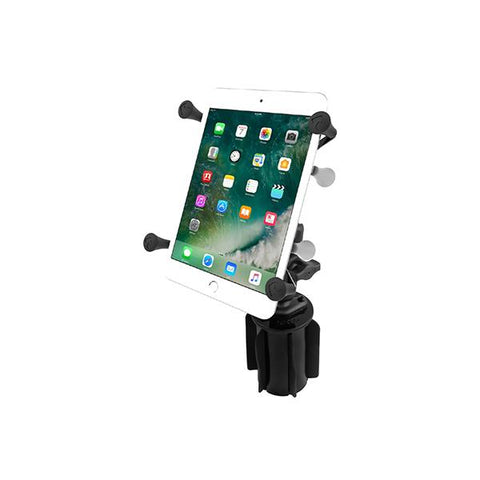 RAM® X-Grip® with RAM-A-CAN™ II Cup Holder Mount for 7"-8" Tablets (RAP-299-3-UN8U)
6,668.00 PHP

Ex. Tax:

6,668.00 PHP

6,668.00 PHP
---
---
The RAP-299-3-UN8U consists of the RAM-A-CAN™ cup holder base, double socket system and universal spring loaded X-Grip® cradle for 7"-8" tablets. The cup holder base includes a 6" flex mounting feature. A durable composite shell construction and soft fins that can be trimmed to fit makes the cup holder mount one of the most portable and versatile "Go Anywhere" products offered. The mount is designed with a RAM 1" diameter patented rubber ball and socket system that has adjustment points at both ends of the double socket arm; this allowing for almost infinite adjustment and perfect viewing angles. The included X-Grip® cradle has a clean and clever four leg design that sports great holding power without hiding your phone behind foam pads and plastic. The spring loaded X-Grip® cradle expands and contracts, allowing for a perfect custom fit of your tablet. The perfect complement to the modern sleek interior of today's vehicles, the RAM X-Grip® is the cell phone cradle evolved. The X-Grip® includes a device tether recommended for outdoor applications. The cradle is compatible with handheld devices that will fit the dimensions listed below. It is important to verify the dimensions of your handheld device with a case/sleeve/skin when determining the overall size. Compatible with any vehicle cup holder with an inside diameter range of 2.57" to 3.5".


Compatible Devices
: 7"-8" Tablets
Amazon: Fire 7, Fire HD 8, Kindle, Kindle Oasis, Kindle Paperwhite, Kindle Voyage
Apple: iPad mini (1st Generation), iPad mini 2, iPad mini 3, iPad mini 4, iPad mini 5
ASUS: MeMO Pad 8, VivoTab 8, ZenPad 8.0, ZenPad C 7.0, ZenPad S 8.0, ZenPad Z8, ZenPad Z8s
Dell: Venue 7, Venue 7 (2014), Venue 7 3741, Venue 8, Venue 8 (2014), Venue 8 7840, Venue 8 Pro, Venue 8 Pro 5855
Google: Nexus 7
HP: Pro Tablet 408, Slate 7
Huawei: MediaPad M3, MediaPad M3 Lite, MediaPad T1 7.0, MediaPad T1 8.0, MediaPad T3 7, MediaPad T3 8
Lenovo: Ideapad Miix 300, IdeaTab A1000, IdeaTab A2107, IdeaTab A3000, Tab 2 A7-10, Tab 2 A7-20, Tab 2 A7-30, Tab 2 A8, Tab 4 8, Tab 4 8 Plus, Tab 7 Essential, Tab A7-30, Tab A7-40, Tab A7-50, Tab A8-50, Tab S8, Tab3 7, Tab3 8, Yoga Tablet 8
LG: G Pad 7.0, G Pad F 8.0 (2nd Gen), G Pad F2 8.0, G Pad II 8.0, G Pad X 8.0, G Pad X II 8.0
Nvidia: Shield Tablet
Rand: McNally OverDryve 7, McNally OverDryve 7 Pro, McNally OverDryve 7 RV, McNally OverDryve 7c, McNally OverDryve 8 Pro, McNally Road Explorer 7, McNally Road Explorer 70, McNally RV Tablet 70, McNally RVND 7, McNally TND 740, McNally TND Tablet 70, McNally TND Tablet 80
Samsung: Galaxy Tab 2 7.0, Galaxy Tab 3 7.0, Galaxy Tab 3 8.0, Galaxy Tab 3 Lite 7.0, Galaxy Tab 4 7.0, Galaxy Tab 4 8.0, Galaxy Tab 7.7, Galaxy Tab A 7.0, Galaxy Tab A 7.0, Galaxy Tab A 8.0, Galaxy Tab A 8.0 (2017), Galaxy Tab A 8.0 (2018), Galaxy Tab A 8.0 (2019), Galaxy Tab Active2, Galaxy Tab E 7.0, Galaxy Tab E 8.0, Galaxy Tab Pro 8.4, Galaxy Tab S 8.4, Galaxy Tab S2 8.0
Vankyo: MatrixPad Z1 7"
Specs & Features
Cradle Dimensions:

Minimum Width = 2.5" (Minimum Height = 7")




Maximum Width = 5.75" (Minimum Height = 4")



Ball/Socket Size: B Size (1")
Weight: 1.83 lbs.
Material: High strength composite
Package Contents
1 x RAP-299-3U
1 x RAP-B-238U
1 x RAP-B-201U
1 x RAM-HOL-UN8BU