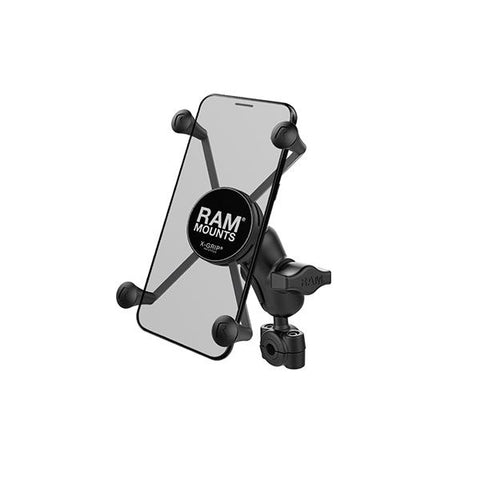 RAM® X-Grip® Large Phone Mount with RAM® Torque™ Small Rail Base (RAM-B-408-37-62-A-UN10)
5,194.00 PHP

Ex. Tax:

5,194.00 PHP

5,194.00 PHP
---
---
Take your mobile entertainment on the road with the new RAM® Torque™ handlebar and rail mounting base. We've paired a B-sized 1" rubber ball base that accommodates bars 3/8" to 5/8" in diameter with a B-sized short length arm and the dynamic X-Grip® for larger phones. Sizing inserts are included to provide a snug fit and offer additional protection for the rail.
The mount utilizes nylon-insert locknuts to prevent loosening in high vibration environments. This low-profile mount is the perfect way to secure your personal electronics and small accessories in any high-vibration environment. The included X-Grip® cradle has a clean and clever four leg design that sports great holding power without hiding your phone behind foam pads and plastic. The spring loaded X-Grip® cradle expands and contracts, allowing for a perfect custom fit of your cell phone. The perfect complement to the modern sleek interior of today's vehicles, the RAM X-Grip® is the cell phone cradle evolved. The X-Grip® includes a device tether recommended for outdoor applications. The cradle is compatible with handheld devices that will fit the dimensions listed below. It is important to verify the dimensions of your handheld device with a case/sleeve/skin when determining the overall size.

Compatible Devices
:
Apple: iPhone 6s Plus, iPhone 7 Plus, iPhone 8 Plus, iPhone Xs Max, iPhone 11 Pro Max
Blackberry: Evolve X
Garmin: Drive 50, Drive 51 LM, Drive 52, Drive 61 LM, DriveSmart 51 LMT-S, DriveSmart 61 LMT-S, DriveTrack 71, Nuvi 2788LM, RV 660LMT, RV 770 LMT-S
Google: Pixel 2 XL, Pixel 3 XL, Pixel 3a XL
HTC: Bolt, U Ultra
Huawei: Mate 20 X
LG: Fiesta 2 LTE, Fiesta LTE, G8S ThinQ, Harmony, Stylo 2 V, Stylo 3, Stylo 3 Plus Titan, Stylo 4, V20, V50 ThinQ, X charge, X venture
Magellan: TR5, TR7
Motorola: moto e4 plus, moto g4, moto z2, moto z2 play, moto z3
Rand: McNally Road Explorer 5, McNally TND 540
Razer: Phone 2
Samsung: Galaxy A7, Galaxy A7 (2017), Galaxy A7 (2018), Galaxy A8, Galaxy A8 (2016), Galaxy A9 (2016), Galaxy A9 Pro (2016), Galaxy A9 (2018), Galaxy A70, Galaxy A80, Galaxy A90 5G, Galaxy C7, Galaxy C7 Pro, Galaxy C9 Pro, Galaxy E7, Galaxy Grand Neo Plus, Galaxy J7, Galaxy J7 Max, Galaxy J7 V, Galaxy Note 5, Galaxy Note 10 Plus, Galaxy On7, Galaxy S10 5G, Galaxy S8, Galaxy S8 Active
Sony: Xperia C4, Xperia L2, Xperia XA Ultra, Xperia XA1 Ultra, Xperia XA2 Ultra, Xperia XZ Premium
Specs & Features
Hardware Included: (1) Optional Tether , (1) Glue Tube for Rubber Caps , (2) #8-32 x .75" Socket Head Cap Screws , (2) #8-32 Nylock Nuts , (2) .32" Composite Bushings , (2) .4" Composite Bushings , (2) .47" Composite Bushings , (2) .55" Composite Bushings , (1) 57.2mm Rubber Strip , (1) 9/64" Hex Key Wrench
Holder Dimensions: Width Range: 1.75" - 4.5", Depth Range: .875" max
Clamp Range: .375" - .625" diameter
Socket-to-Socket Length: 1.75"
Ball/Socket Size: B Size (1")
Weight Capacity: 2 lbs
Weight: 0.85 lbs.
Materials: Powder Coated Marine Grade Aluminum, Marine Grade Stainless Steel Components & High Strength Composite
Note: Part number reflects product packaged in retail bag for store shelf display. RAM highly recommends using the provided Tether for all open cockpit applications while using this product.
Package Contents
1 x RAM-B-201U-A
1 x RAM-B-408-37-62U
1 x RAM-HOL-UN10BU