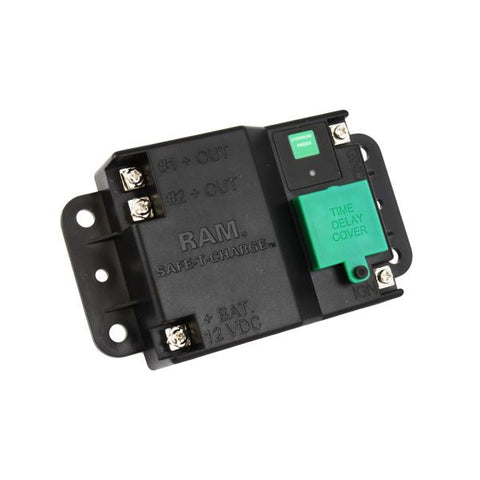 RAM Safe-T-Charge™ Battery Protection System (RAM-234-VCP1U)
4,015.00 PHP

Ex. Tax:

4,015.00 PHP

4,015.00 PHP
---
---
The RAM Safe-T-Charge™ is feature rich and affordable making it the best choice in protecting your vehicle or boat's electrical system and battery. With multiple configurations available through onboard dip switches, the Safe-T-Charge™ can be configured to shut down connected devices either by a trigger coming from the ignition of the vehicle or by sensing a drop in the DC voltage below a level capable of starting your engine. Easily select a predetermined duration of time to have your connected devices shut down to assure you will always be able to start your vehicle. The RAM Safe-T-Charge™ offers a audible tone starting five minutes before the timer shuts off power to your devices, and continuing every minute until the power is shut down. The on board over-ride switch enables the user to by pass the timed shut off feature in the case of an emergency or other event which requires immediate access to device power.
Specs & Features
L x W x H = (95 mm/3.74") x (80mm/3.15") x (32mm/1.26")
Materials: ABS, flame retardant plastic construction
Water-proof for use in marine environments
30AMP Rating
24V jump start protection
Battery + 12V input terminal
Output terminal (More outputs can be connected by overlapping the wires and fastening.)
Ground terminal
IGN terminal
Over ride switch
Timer start LED
Selector for DC or IGN sense
3-dip switch for time set
Mounting holes
Sticker on turning cover for indication of time setting
Note: The "U" in the part number reflects product packaged in poly bag.
---
We Also Recommend